USS Helena War Diary December 1942
Page 2 of 3 pages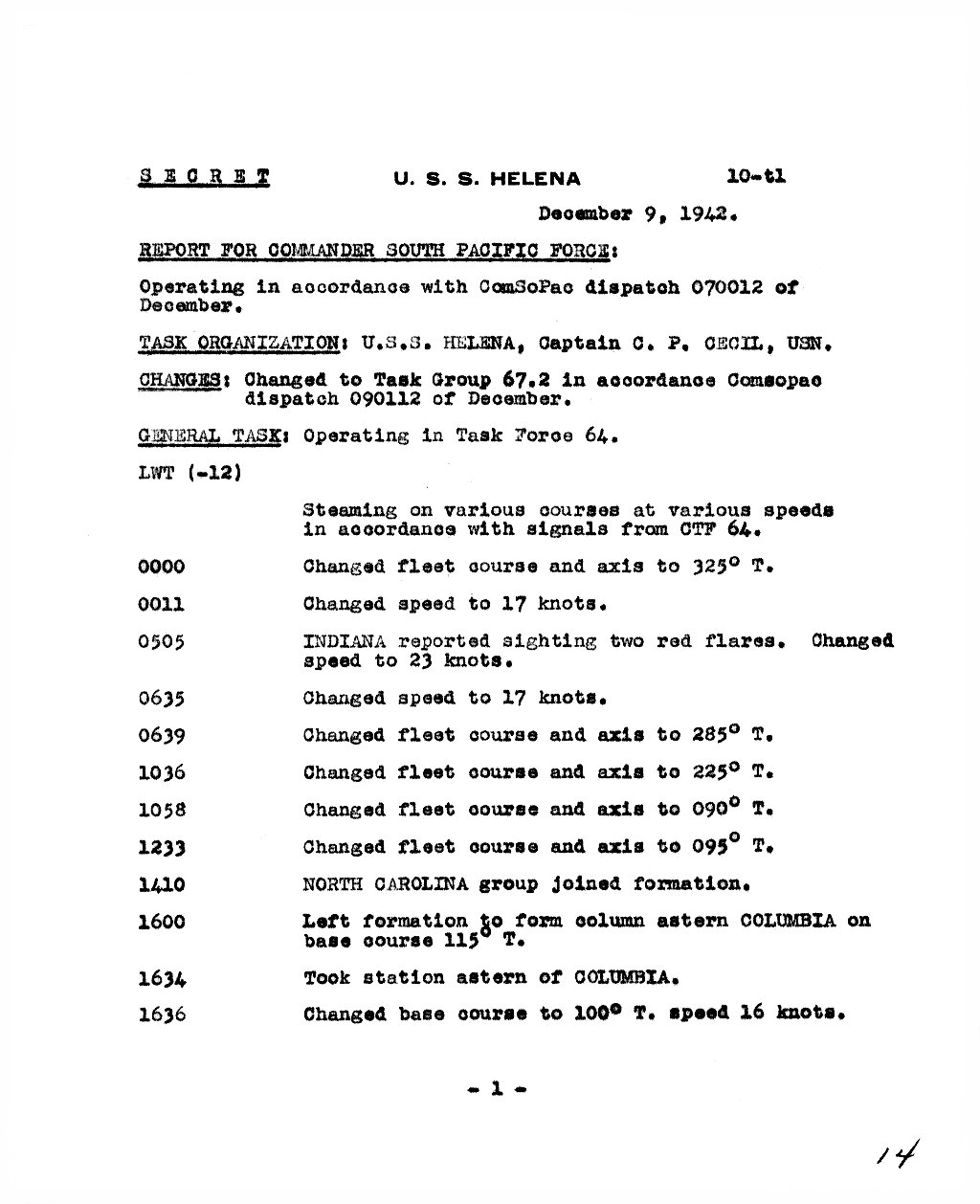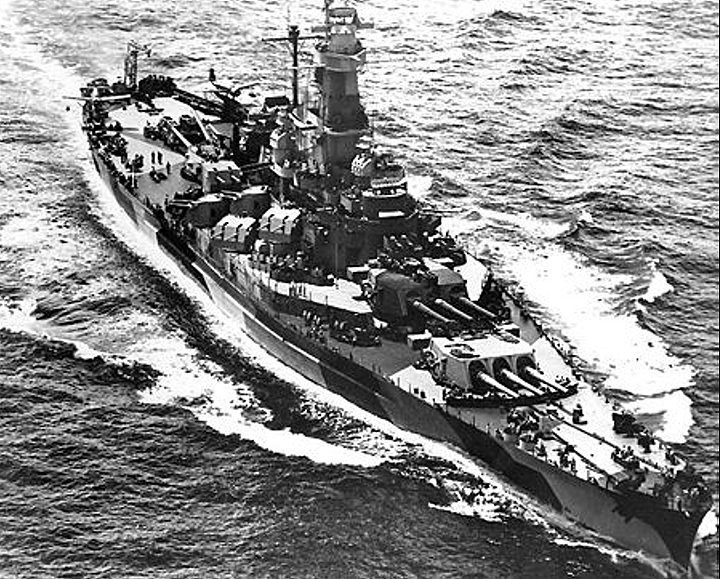 USS Indiana (BB-58). 8 September 1942

USS Indiana (BB-58), a North Carolina-class battleship, was the fourth ship of the United States Navy
named in honor of the 19th state. Her keel was laid down on 20 November 1939 by the
Newport News Shipbuilding and Dry Dock Company of Newport News, Virginia. She was launched on
21 November 1941 sponsored by Mrs. Lewis C. Robbins, daughter of Indiana governor Henry F. Schricker,
and commissioned on 30 April 1942, CaptainAaron Stanton Merrill in command.

Following shakedown in Casco Bay, Maine, the new battleship steamed through the Panama Canal
to bolster US fleet units in the Pacific during the critical early months of World War II.
She joined Rear Admiral Lee's aircraft carrier screening force on 28 November 1942.
For the next 11 months, Indiana helped protect carriers Enterprise and Saratoga,
then supporting American advances in the Solomon Islands.
---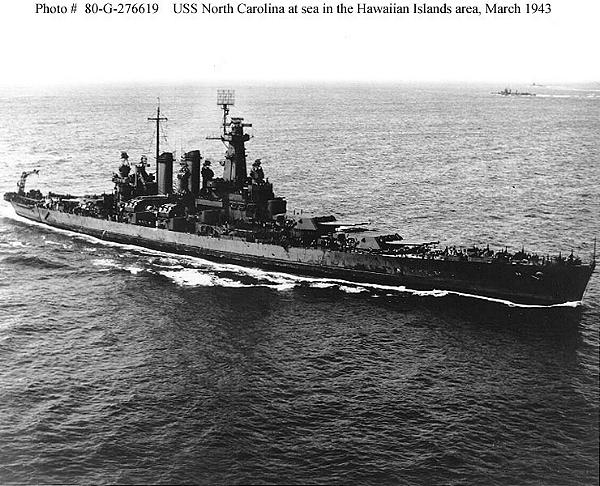 USS North Carolina (BB-55).

USS North Carolina (BB-55) was the lead ship of South Dakota-class battleships
and the fourth warship in the U.S. Navy to be named in honor of the State of North Carolina.
She was the first newly constructed American battleship to enter service during World War II,
and she took part in every major naval offensive in the Pacific Theater of Operations to become
the most highly decorated American battleship of World War II, accumulating 15 battle stars.[4]
The USS North Carolina is now a museum ship and memorial kept at the seaport of Wilmington, N.C.

The North Carolina joined the long island-hopping campaign against the Japanese by assisting
in the landing of U.S. Marines on the islands of Guadalcanal and Tulagi on 7 August 1942,
thus beginning the long campaign for Guadalcanal.[12] She was the only battleship in the
naval force in the South Pacific, escorting the aircraft carriers Saratoga, Enterprise, and Wasp,
surrounded by their cruisers and destroyers.
---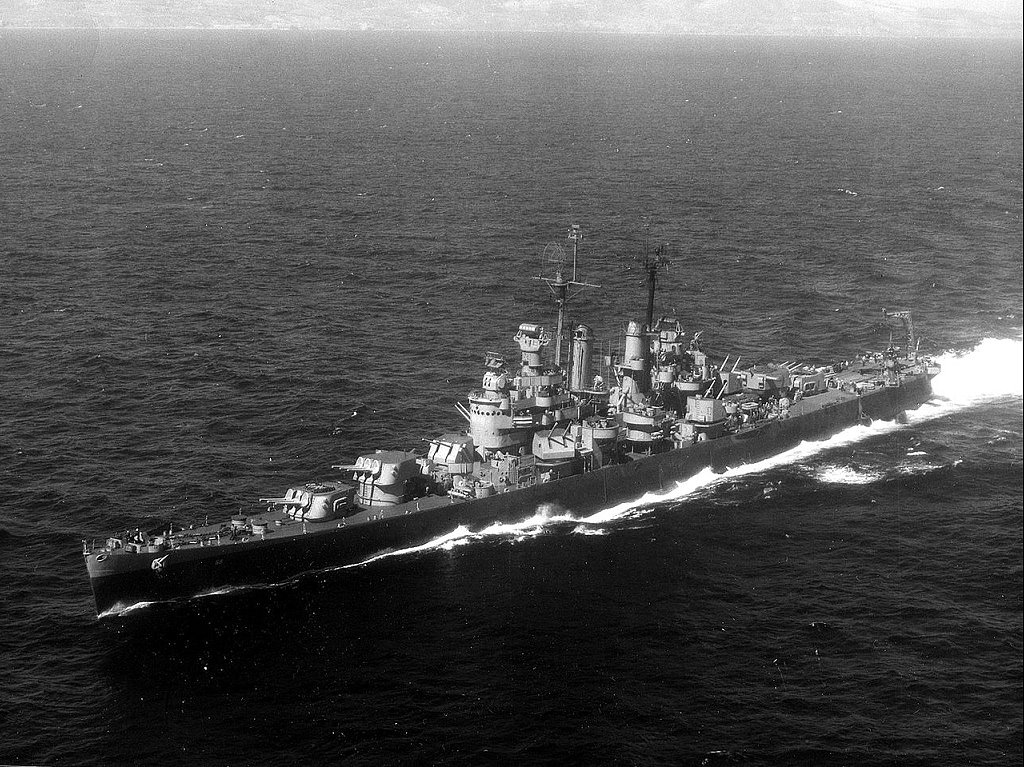 USS Columbia (CL-56) was one of 26 United States Navy -class light cruisers completed during or shortly after World War II .
The ship, the sixth US Navy ship to bear the name, was named for the city of Columbia, South Carolina.
Columbia was commissioned in July 1942, and saw service in several campaigns in the Pacific.
Like almost all her sister ships, she was decommissioned shortly after the end of the war, and never saw active service again.
Columbia was scrapped in the early 1960s.
A memorial to the ship and men who served on her exists in Columbia, SC.

Sailing from Norfolk on 9 November 1942, Columbia arrived at Espiritu Santo, New Hebrides on 10 December, and joined in the
patrols west of the New Hebrides in support of the continuing struggle for Guadalcanal .
---