USS Russell (DD-414) was a World War II-era Sims-class destroyer in the service of the
United States Navy, named after Rear Admiral John Henry Russell.
Russell was laid down on 20 December 1937 by the Newport News Shipbuilding and Dry-
dock Company, Newport News, Virginia; launched on 8 December 1938; sponsored by
Mrs. Charles H. Marshall, granddaughter of Rear Admiral Russell; and commissioned on
3 November 1939, Lieutenant Commander J. C. Pollock in command.
Commissioned two months after the outbreak of World War II in Europe, Russell cruised
in the western Atlantic and in the Caribbean on neutrality patrol until the bombing
of Pearl Harbor.
1942
Russell was ordered to the Pacific, and she transited the Panama Canal and proceeded to
San Diego, where on 6 January 1942, she sailed west, screening reinforcements to Samoa.
By the time of her arrival, 20 January, the Japanese had moved into British Malaya,
Borneo, the Celebes and Gilbert Islandss, and the Bismarck Archipelago. Within the week,
Rabaul fell and the Japanese continued on to New Ireland and the Solomons while further
west they extended their occupation of the Netherlands East Indies.
On 25 January, Russell sailed north with Task Force 17 (TF 17), screened USS Yorktown
(CV-5) as her planes raided Makin, Mili, and Jaluit on 1 February, then set a course for
Pearl Harbor. In midmonth, the force sailed again. Diverted from its original destination,
Wake Island, it covered forces establishing an airbase on Canton Island, important on the
Hawaii-Samoa-Fiji route to Australia and less than 1,000 miles (1,600 km) from Makin.
Raids on Rabaul and Gasmata were next ordered to cover a movement of troops to New
Caledonia, but on 8 March the Japanese landed at Salamaua and Lae in New Guinea and
Port Moresby was threatened. The force, again joined by the Lexington force, steamed into
the Gulf of Papua, where on 10 March, planes were sent over the Owen Stanley Range to
bomb the newly established Japanese bases on the Huon Gulf.
Through April, Russell continued to screen the Yorktown force, operating primarily in the
ANZAC area. Detached on 3 May to screen USS Neosho (AO-23) during fueling operations
with TF 11, she rejoined TF 17 early on 5 May and resumed screening duties for the force's
heavier units. On 7 May in the Coral Sea, she engaged enemy planes closing the formation
to threaten Yorktown andLexington and to support Japanese forces in an assault on Port
Moresby. Lexington hit and heavily damaged, but still in action, continued to recover and
launch planes. Three hours later, however, she reported a serious explosion. A second
followed. Her fires were no longer under control. She soon commenced abandoning ship.
Russell joined her screen, circled the crippled ship as rescue ships evacuated personnel,
and with the completion of that work, departed the scene of the Battle of the Coral Sea.
Retiring to Tonga, Russell debarked 170 survivors from Lexington and sailed for
Pearl Harbor. Arriving on 27 May, she headed out again on 30 May, this time toward
Midway Island. On 4 June,TFs 16 and 17 again met the enemy in an air duel, through
which Russell steamed in the screen of Yorktown. In the afternoon, enemy torpedo planes
broke through the screen and scored successfully on the carrier. The patched-up survivor
of the Battle of the Coral Sea was abandoned. Russell took on 492 of her crew and aviation
personnel.The next day she transferred 27 to Astoria to assist in salvage operations on the
carrier, but Japanese torpedoes (from I-168) negated the effort and Yorktown and
Hammann were lost.On 10 June, Russell covered the transferral of replacements from
Saratoga to Hornet and Enterprise, and on 13 June, she returned to Pearl Harbor.
Engaged in training exercises for the next 2 months, Russell again sortied with TF 17 on
17 August, took station screening Hornet, and headed southwest. On the 29th, TF 17 joined
TF 61, becoming Task Group 61.2 (TG 61.2). On the 31st, Saratoga took a torpedo and
Russell conducted an unsuccessful submarine hunt, the first of many in the long and costly
campaign for Guadalcanal. On 6 September, one of Hornet's planes dropped an explosive
off Russell's starboard quarter to detonate a torpedo. Another submarine search
commenced. At 1452, she established contact and dropped six 600-pound depth charges.
At 1513, she sighted an oil slick 1 mile by one-half-mile, but contact was lost at 700 yards
and never regained.
Through the remainder of the year, and into the new, Russell continued to operate in
support of the Guadalcanal campaign. On 25-26 October, she participated in the Battle
of the Santa Cruz Islands, during which she again joined in rescue operations for a
sinking carrier, this time Hornet, from which she transferred the commander of TF 17,
Rear Admiral George D. Murray and his staff to Pensacola, seriously wounded personnel
to USS Northampton (CA-26), and other survivors to Nouméa where Russell's
superstructure, damaged during rescue work, was repaired.
1943
In December 1942 – January 1943, she screened convoys to Guadalcanal and Tulagi,
then to Rennell. In February, she screened Enterprise, then in March, resumed convoy
escort work, making one run to Australia and back by mid-April.
On 1 May, the destroyer set a course for the west coast. At the end of July, after overhaul
at Mare Island, she steamed north to join forces staging for the "invasion" of Kiska Island.
Aleutian patrol duty followed, and with the arrival of autumn, she turned south to escort
landing craft to Hawaii. In October, she continued on to Wellington, New Zealand; and, in
early November, she escorted transports to the New Hebrides where she joined TF 53,
then preparing to push into the Gilberts. Underway on 13 November with the Task Force,
she arrived with the troop transports off Betio, Tarawa AtollTarawa, on 20 November,
then screened heavier units as they shelled the shore. Remaining in the area until 25
November, she provided gunfire support and screened the transports as they filled with
Marine casualties. On 27 November, she joined TG 50.3 and, with TG 50.1, sailed for the
Marshall Islands. On 4 December, carrier planes raided Kwajalein and Wotje, and on
9 December, the force returned to Pearl Harbor, whence Russell continued on to
the west coast.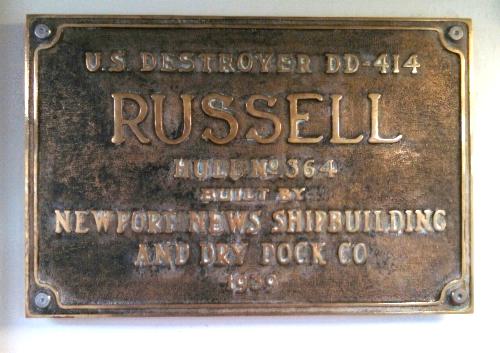 Original Plaque from he USS Russell (DD414)