September 1942
---
USS North Carolina (BB-55) first found in USS Helena CL-50 War Diary on 6 September 1942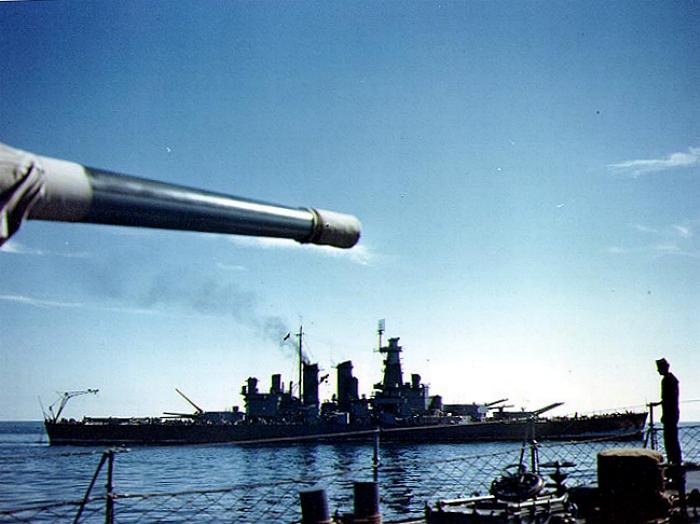 North Carolina in May 1941, putting to sea for trials
USS North Carolina (BB-55) was the lead ship of North Carolina-class battleships and the
fourth warship in the U.S. Navy to be named for the State of North Carolina. She was
the first newly constructed American battleship to enter service during World War II, and
took part in every major naval offensive in the Pacific Theater of Operations; her 15 battle
stars made her the most decorated American battleship of World War II. She is now a
museum ship and memorial kept at the seaport of Wilmington, North Carolina.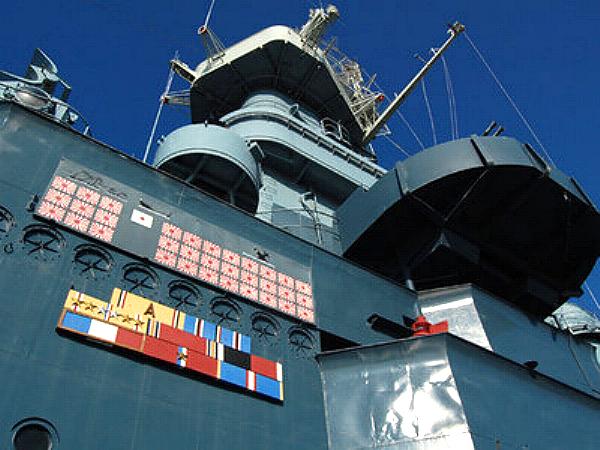 USS North Carolina (BB-55) Awards.
History
Name:North Carolina
Namesake: State of North Carolina
Ordered: 1 August 1937
Builder: New York Naval Shipyard
Cost: $76,885,750
Laid down: 27 October 1937
Launched: 13 June 1940
Sponsored by: Isabel Hoey,
daughter of Clyde R. Hoey,
governor of North Carolina
Commissioned: 9 April 1941
Decommissioned: 27 June 1947
Struck: 1 June 1960
Identification:
Hull symbol:BB-55
Code letters:NIBK
November India Bravo Kilo
Nickname(s): Showboat






Honors and awards:
15 Battle Stars
American Defense Service ribbon
American Defense
Service Medal
American Campaign Medal ribbon
American
Campaign Medal
Asiatic-Pacific Campaign Medal ribbon
Asiatic-Pacific
Campaign Medal
World War II Victory Medal ribbon
World War II Victory Medal
Army of Occupation ribbon
Navy Occupation Medal
Presidential Unit Citation (Philippines)
Philippine Presidential Unit Citation
Phliber rib
Philippine Liberation Medal
PHL Independence Medal ribbon
Philippine Independence Medal
Status: Museum ship since
29 April 1962 in Wilmington, North Carolina
General characteristics

Class and type: North Carolina-class battleship
Displacement: 37,484 short tons (34,005 t) (standard)
44,377 short tons (40,258 t) (loaded)
Length: 728.8 ft (222.1 m)
Beam: 108.3 ft (33.0 m)
Draft: 33.0 ft (10.1 m)
Installed power: 8 × boilers 121,000 hp (90,000 kW)
Propulsion: 4 × General Electric steam turbines
four propeller shafts
Speed: 28 knots (52 km/h; 32 mph) in 1942
26.8 knots (49.6 km/h; 30.8 mph) in 1945
Range: 17,450 nmi (32,320 km; 20,080 mi) at 15 knots
(28 km/h; 17 mph)
Complement: about 2,339 (144 officers and 2,195 enlisted)
Sensors and processing systems:CXAM-1 radar beginning in
1940
Armament: 9 × 16 in (410 mm)/45 caliber Mark 6 guns
20 × 5 in (130 mm)/38 caliber dual-purpose guns
16 × 1.1 in (28 mm)/75 caliber anti-aircraft guns
—replaced by 15 × quad Bofors 40 mm guns (15×4)
and 48 × single Oerlikon 20 mm cannons (48×1) Armor:
Side belt (over vital places): 12 in (30 cm)
Gun turret: 16 in (41 cm)
Main deck: 1.5 in (3.8 cm)
Armored Deck: 5.5 in (14 cm)
Third Deck: .75 in (1.9 cm)
Conning Tower: 16 in (41 cm)
Aircraft carried: 3 × Vought OS2U Kingfisher floatplanes
Aviation facilities: 2 × trainable catapults on her fantail

North Carolina was laid down on 27 October 1937 at the New York Naval Shipyard
and launched on 13 June 1940, sponsored by the daughter of Clyde R. Hoey, the
Governor of North Carolina. She was commissioned in New York City on 9 April 1941,
with Captain Olaf M. Hustvedt in command. The first of the U.S. Navy's fast
battleships to be commissioned, she carried a powerful main battery of nine 16 in
(410 mm)/45 caliber Mark 6 guns. The ship received so much attention during her
completion and sea trials that she won the lasting nickname "Showboat".

North Carolina was limited to a standard displacement of 35,000 long tons (36,000 t)
by both the Washington Naval Treaty and the London Naval Treaty, to a beam of less
than 110 ft (34 m) by the width of the locks of the Panama Canal, and to a draft of
38 ft (12 m) so she could use as many anchorages and shipyards as possible.
Thus constricted, she proved a challenge to design.

As the first American battleship to be built in two decades, North Carolina was
given the latest in shipbuilding technology. Her propulsion was divided into four
main spaces, each with two boilers and one steam turbine per propeller shaft.
This resulted in fewer openings in watertight bulkheads and minimized the area
requiring protection by additional armor plate. Her propulsion systems (boilers/
turbines/shafts/propellers) suffered numerous teething troubles which were
reflected in long post-commissioning defect correction period which lasted Aprli-
December 1941. Her sister Washington suffered equally, and neither ship was
ever able to achieve their designed deep load speed of 28 knots. On the plus
side however, she was also one of just 14 ships to receive the early RCA CXAM-1
radar, and a strong (for the day) light anti-aircraft armament.

Aesthetically, her large tower forward, tall uncluttered stacks, and clean supe-
rstructure and hull were a sharp break from the elaborate bridgework, heavy
tripod masts, and casemated secondary batteries of World War I-era battleships.
Combined with her long sweeping flush deck and streamlined structure, she was
far more graceful not only than her predecessors but the nearly 50 ft (15 m) shorter
South Dakota-class battleships that succeeded her.

Service during World War II

North Carolina completed her final shakedown cruise in the Caribbean Sea before
the Japanese attack on Pearl Harbor. Early in 1942 she was scheduled to steam there,
but remained in the Atlantic Ocean for a few more months as a potential counter if the
German battleship Tirpitz began to attack supply and troop convoys destined for
Great Britain. By summer she was ordered to join the Pacific Fleet.

After intensive war exercises, North Carolina departed for the Pacific theater of
Operations. She was the first new battleship to arrive in the Pacific since the beginning of
the war, transiting the Panama Canal on 10 June, four days after the Battle of Midway in the
Central Pacific. She steamed to the port of San Pedro, California, and then to San Francisco
before proceeding to Hawaii. The ship arrived at Pearl Harbor on July 11 1942; according
to sailors there, North Carolina was "the most beautiful thing they had ever seen", and her
arrival in Hawaii greatly increased the morale of the Pacific Fleet. North Carolina departed
15 July in a task force of the aircraft carrier Enterprise, the heavy cruiser Portland, the light
cruiser Atlanta, and eight screening destroyers headed for combat in the South Pacific.

North Carolina joined the long island-hopping campaign against the Japanese by assisting
in the landing of U.S. Marines on the islands of Guadalcanal and Tulagi on 7 August 1942,thus
beginning the long battle for Guadalcanal. The only battleship in the naval force in the South
Pacific, she escorted the aircraft carriers Saratoga, Enterprise, and Wasp, surrounded
by their cruisers and destroyers. After helping to screen Enterprise in the air support force
for the amphibious landing, North Carolina guarded the carrier during her mission of
protecting the supply and communication lines to the Solomon Islands and Guadalcanal.

She participated in the Battle of the Eastern Solomons, on August 24-25, 1942. The Americans
struck first, sinking the carrier Ryujo. The Japanese counterattacked with dive bombers
and torpedo bombers, covered by fighters, striking at Enterprise and North Carolina.
In a mere eight-minute action, the ship's antiaircraft batteries shot down between 7 and 14 enemy
aircraft, her gunners remaining at their posts despite the jarring detonations of seven near misses.
One sailor was killed by strafing, but the ship was undamaged. Her antiaircraft fire was so heavy
that the officers of Enterprise asked, "Are you afire?"

North Carolina fired 841 5-inch (127 mm) shells, 1037 rounds of 1.1-inch (28 mm) shells, 7425
rounds of 20-mm shells, and 8641 rounds of .50 caliber machine gun ammunition during the attack.
The gunners of her 5-inch antiaircraft guns "...estimated that the rate of fire exceeded 17 rounds
per minute on all guns...", but reported both that vibrations hampered their optical range-finding
and the Mark 4 FD radar had difficulty acquiring targets. The protection North Carolina could offer
Enterprise was limited as the speedier carrier plunged ahead of her. Enterprise took three
direct hits while her aircraft severely damaged seaplane carrier Chitose and hit other Japanese
ships. With the loss of 100 Japanese aircraft, the U.S. Navy won control of the air and averted a
threatened Japanese reinforcement of Guadalcanal.

North Carolina next was assigned to protect Saratoga. Twice during the following weeks of support
to Marines ashore on Guadalcanal, North Carolina was attacked by Japanese submarines. On
6 September, she maneuvered successfully, dodging a torpedo that passed 300 yd (270 m) off the
port beam. Nine days later, while sailing with Wasp, Hornet, and ten other warships, North Carolina
suffered a torpedo hit on her port side just forward of her number 1 gun turret, 20 ft (6m) below
her waterline making a hole 32 ft by 18 ft, and killing five seamen. Torpedoes from the same salvo
from I-19 sank Wasp and the destroyer O'Brien. Skillful damage control by North Carolina's crew
and the excellence of her construction prevented disaster; a 5.6° list was righted in as many minutes,
and she maintained her station in a formation at 26 kn (30 mph; 48 km/h).

After temporary repairs in New Caledonia, the ship proceeded to Pearl Harbor to be dry docked for a
month for repairs to her hull and to receive more antiaircraft armament. Following repairs, she returned
to action, screening Enterprise and Saratoga and covering supply and troop movements in the Solomons
for much of the next year. She was at Pearl Harbor in March and April 1943 to receive advanced fire
control and radar gear, and again in September, to prepare for the Gilbert Islands operation.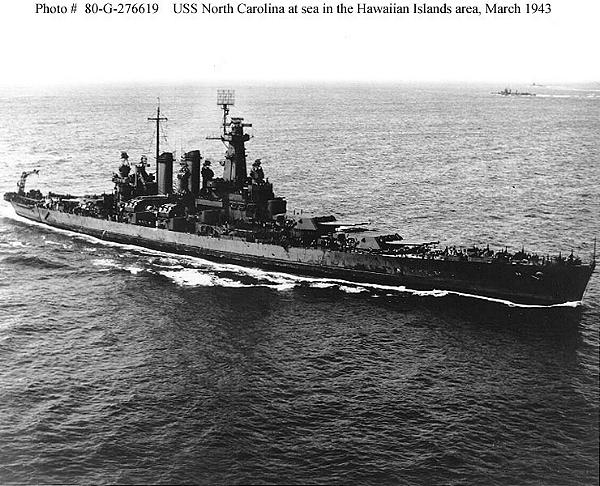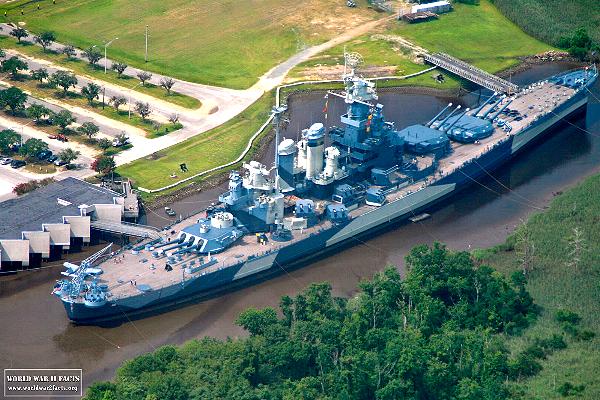 North Carolina Museum Ship. Wilmington, North Carolina. 2006