---
September 1942
---
USS Long Island (CVE-1) first found in USS Helena CL-50 War Diary for 2 September 1942,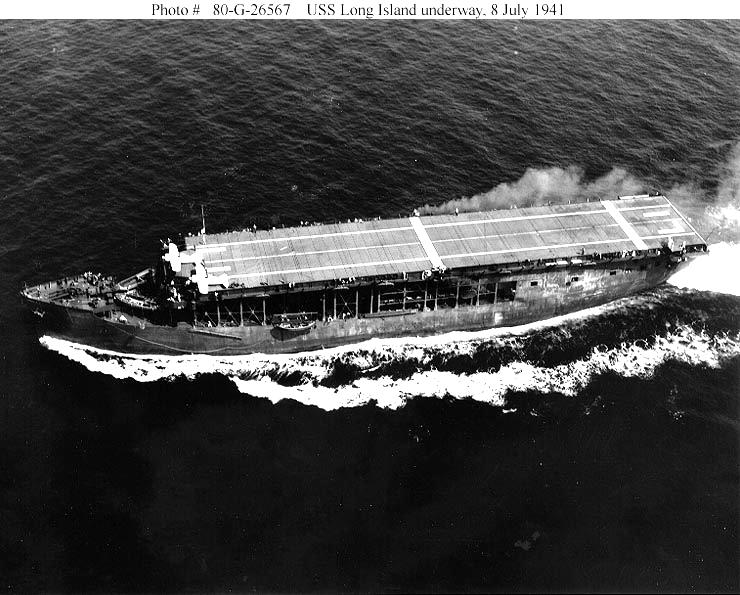 USS Long Island (CVE-1) Awards

Name: USS Long Island
Laid down: 7 July 1939
Launched: 11 January 1940
Commissioned: 2 June 1941
Decommissioned: 26 March 1946
Struck: 12 April 1946
Fate: Scrapped in Belgium in 1977


General characteristics
Class and type: Long Island-class escort carrier
Displacement: 13,499 long tons (13,716 t)
Length: 492 ft (150 m)
Beam: 69 ft 6 in (21.18 m)
Draft: 25 ft 8 in (7.82 m)
Installed power: 8,500 hp (6,300 kW)
Propulsion:
1 × diesel engine
1 × shaft
Speed: 16.5 kn (19.0 mph; 30.6 km/h)
Complement: 970 officers and enlisted
Armament:
1 × 5 in (130 mm)/51 cal gun
2 × 3 in (76 mm)/50 cal guns
Aircraft carried: 21
USS Long Island (CVE-1) (originally AVG-1 and then ACV-1) was lead ship of her class
and the first escort carrier of the United States Navy. She was also the second ship to be
named after Long Island, New York. She was laid down on 7 July 1939, as the C-3 cargo
liner Mormacmail, under Maritime Commission contract, by the Sun Shipbuilding and Drydock
Company, Chester, Pennsylvania as Yard No 185, launched on 11 January 1940, sponsored
by Ms. Dian B. Holt, acquired by the Navy on 6 March 1941, and commissioned on 2 June 1941
as Long Island (AVG-1), Commander Donald B. Duncan in command.

In the tense months before the attack on Pearl Harbor, Long Island operated out of Norfolk, Virginia,
conducting experiments to prove the feasibility of aircraft operations from converted cargo ships.
The data gathered by her crew greatly improved the combat readiness of later "baby flattops".
Just after the Japanese attack, she escorted a convoy to Newfoundland and qualified carrier pilots
at Norfolk before departing for the West Coast on 10 May 1942. Reaching San Francisco on 5 June,
the ship immediately joined Admiral William S. Pye's four battleships and provided air cover while at
sea to reinforce Admiral Chester Nimitz's forces after their victory in the Battle of Midway. She left
the formation on 17 June and returned to the West Coast to resume carrier pilot training.

Long Island departed San Diego on 8 July and arrived Pearl Harbor on the 17th. After a training run
south to Palmyra Island, she loaded two squadrons of Marine Corps aircraft and got underway for
the South Pacific on 2 August. Touching at Fiji on 13 August, she then steamed to a point 200 mi
(170 nmi; 320 km) southeast of Guadalcanal and launched her aircraft (19 Grumman F4F Wildcats and
12 Douglas SBD Dauntless dive bombers).[2] These planes, the first to reach Henderson Field, were
instrumental in the Guadalcanal campaign and went on to compile a distinguished war record.
Her mission was accomplished. Reclassified ACV-1 on 20 August, Long Island sailed for Efate Island,
New Hebrides, and arrived on 23 August.

Long Island's actions at Guadalcanal are mentioned and seen in the movie Flying Leathernecks.

Long Island returned to the West Coast on 20 September, as the new "baby flattops" took up the slack
in the Pacific war zones. For the next year, the escort carrier trained carrier pilots at San Diego, an
unglamorous but vital contribution to victory. Long Island was reclassified CVE-1 on 15 July 1943.
In 1944-1945, she transported airplanes and their crews from the West Coast to various outposts in
the Pacific. After V-J Day, she revisited many of these same bases while transporting soldiers and
sailors back home during Operation Magic Carpet.