September 1942
---
USS Hornet (CV-8) first found in USS Helena CL-50 War Diary for 2 September 1942,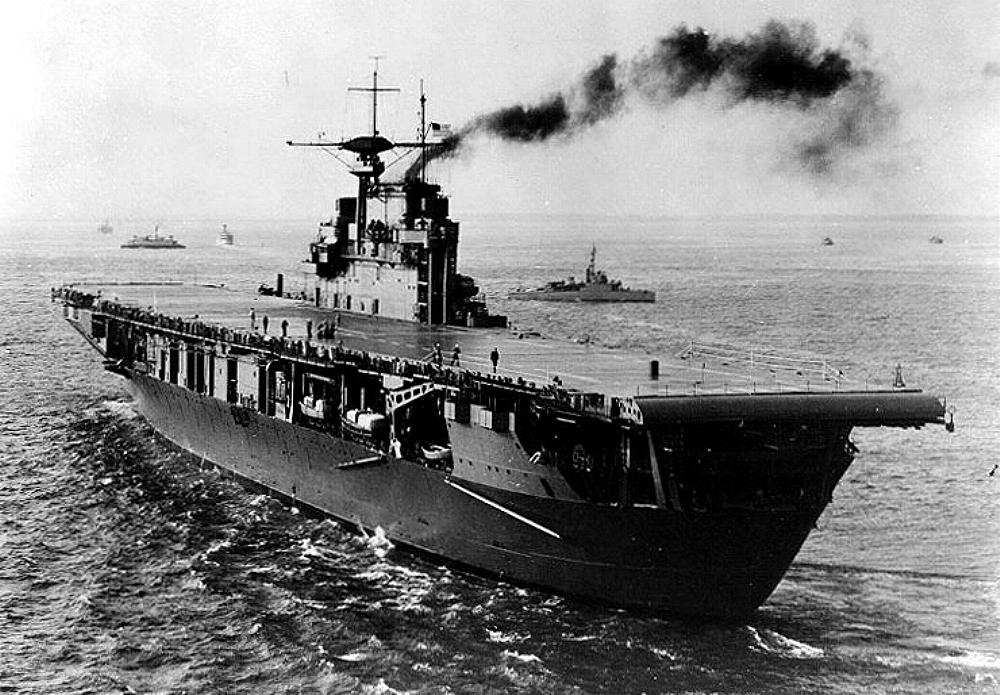 Hornet shortly after completion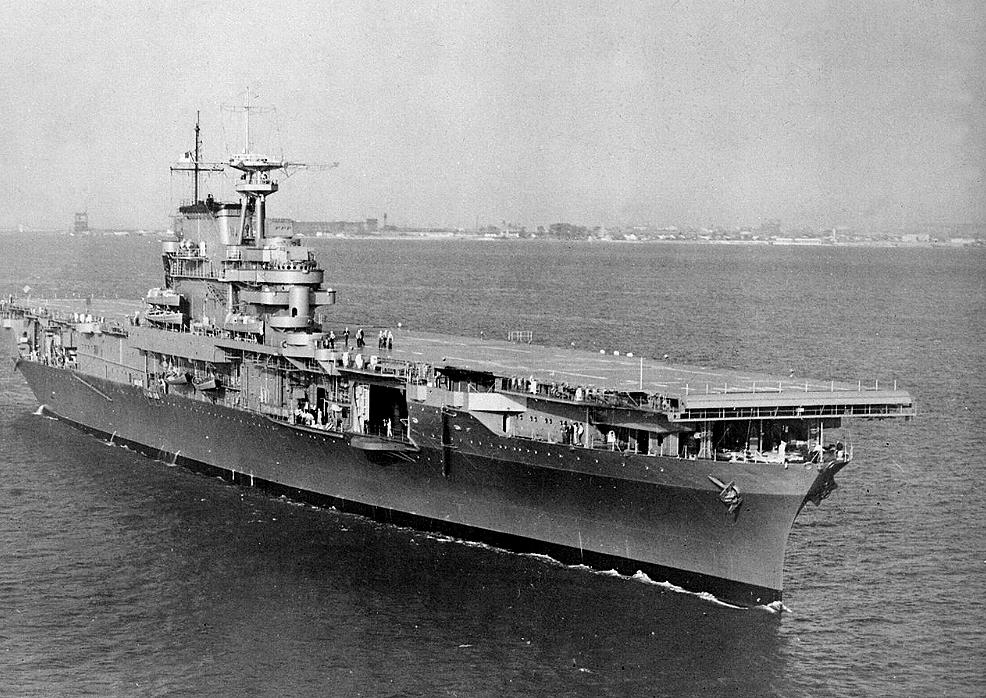 USS Hornet (CV-8) Underway in Hampton Roads on 22 October 1941

USS Hornet Awards

USS Hornet and USS Nashville War Diary's
Name: USS Hornet
Ordered: 30 March 1939
Builder: Newport News Shipbuilding Company
Laid down: 25 September 1939
Launched: 14 December 1940
Sponsored by: Annie Reid Knox
Commissioned: 20 October 1941
Struck: 13 January 1943
Honors and awards:
American Defense Service Medal
American Campaign Medal
Asiatic-Pacific Campaign Medal
with (4 Battle Stars)
World War II Victory Medal
Fate: Sunk in the Battle of the Santa Cruz Islands, 26 October 1942
Notes: Last U.S. fleet carrier lost in action

USS Hornet (CV-8), the seventh ship to carry the name Hornet, was a
Yorktown-class aircraft carrier of the United States Navy. During World
War II in the Pacific Theater, she launched the Doolittle Raid on Tokyo and
participated in the Battle of Midway and the Buin-Faisi-Tonolai Raid. In
the Solomon Islands campaign she was involved in the capture and defense
of Guadalcanal and the Battle of the Santa Cruz Islands where she was
irreparably damaged by enemy torpedo and dive bombers. Faced with an
approaching Japanese surface force, Hornet was abandoned and later
torpedoed and sunk by approaching Japanese destroyers. Hornet was in
service for a year and six days and was the last US fleet carrier ever sunk
by enemy fire. For these actions, she was awarded four service stars, a citation
for the Doolittle Raid in 1995, and her Torpedo Squadron 8 received a
Presidential Unit Citation for extraordinary heroism for the Battle of Midway.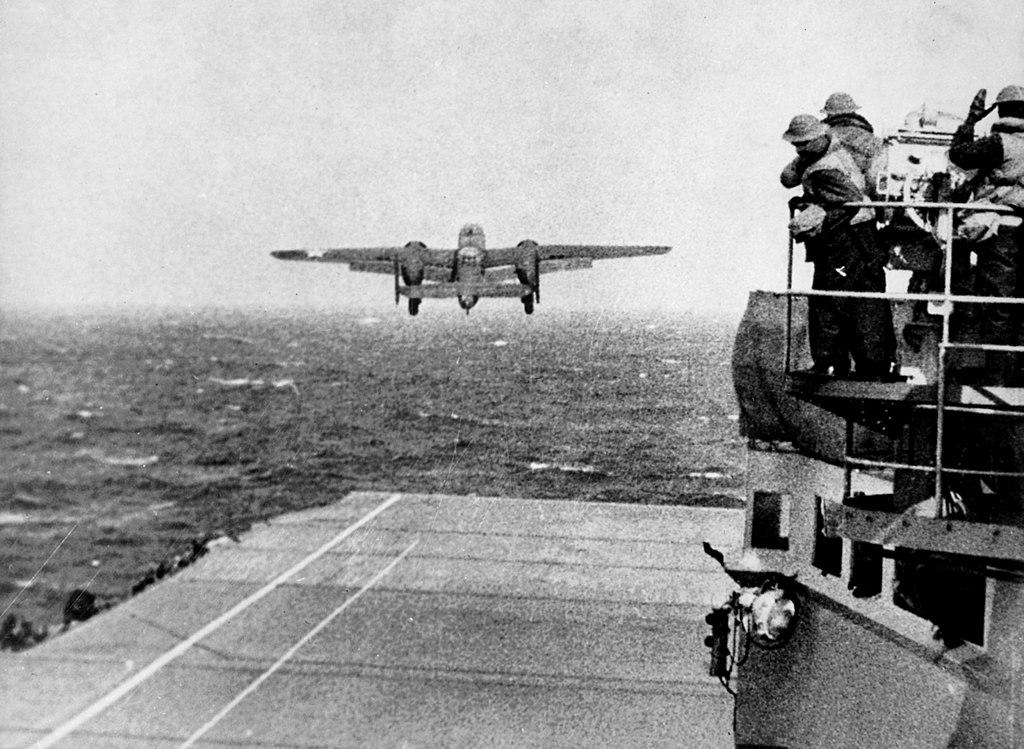 A B-25 takes off from Hornet. The Doolittle Raid on Tokyo.

Watch the movie: 30 Seconds Over Tokyo.
2 hours 18 minutes

During the period before the attack on Pearl Harbor, Hornet trained out of Norfolk.
A hint of a future mission occurred on 2 February 1942, when Hornet departed
Norfolk with two Army Air Forces B-25 Mitchell medium bombers on deck.
Once at sea, the planes were launched to the surprise and amazement of
Hornet's crew. Her men were unaware of the meaning of this experiment, as
Hornet returned to Norfolk, prepared to leave for combat, and on 4 March sailed
for the West Coast via the Panama Canal .

Hornet arrived at Naval Air Station Alameda, California on 20 March 1942.
With her own planes on the hangar deck, by midafternoon on 1 April she
loaded 16 B-25s on the flight deck. Under the command of Lieutenant
Colonel James H. Doolittle, 70 United States Army Air Corps officers and
64 enlisted men reported aboard. In company of her escort, Hornet departed
Alameda on 2 April under sealed orders. That afternoon, Captain Mitscher
informed his men of their mission: a bombing raid on Japan.

Eleven days later, Hornet joined the aircraft carrier Enterprise off Midway,
and Task Force 16 turned toward Japan.

With Enterprise providing combat air patrol cover, Hornet was to steam deep into
enemy waters. Originally, the task force intended to proceed to within 400 nmi
(460 mi; 740 km) of the Japanese coast; however, on the morning of 18 April, a
Japanese patrol boat, No. 23 Nitto Maru, sighted the American task force.
Nashville sank the patrol boat. Amid concerns that the Japanese had been
made aware of their presence, Doolittle and his raiders were forced to launch
prematurely from 600 nmi (690 mi; 1,100 km) out instead of the planned 400 nmi
(460 mi; 740 km). Because of this decision, none of the 16 planes made it to
their designated landing strip in China. After the war, it was found that Tokyo
received the Nitto Maru's message in a garbled form and that the Japanese
ship was sunk before it could get a clear message through to the Japanese mainland.

As Hornet came about and prepared to launch the bombers which had been
readied for take-off the previous day, a gale of more than 40 kn (46 mph; 74 km/h)
churned the sea with 30 ft (9.1 m) crests; heavy swells, which caused the ship to
pitch violently, shipped sea and spray over the bow, wet the flight deck and
drenched the deck crews. The lead plane, commanded by Colonel Doolittle,
had only 467 ft (142 m) of flight deck, while the last B-25 hung its twin rudders
far out over the fantail. Doolittle, timing himself against the rise and fall of the
ship's bow, lumbered down the flight deck, circled Hornet after take-off, and
set course for Japan. By 09:20, all 16 were airborne, heading for the first
American air strike against the Japanese home islands.

Hornet brought her own planes on deck as Task Force 16 steamed at full speed
for Pearl Harbor. Intercepted broadcasts, both in Japanese and English,
confirmed at 14:46 the success of the raids. Exactly one week to the hour
after launching the B-25s, Hornet sailed into Pearl Harbor. That the Tokyo
raid was the Hornet's mission was kept an official secret for a year; until then
President Roosevelt referred to the ship from which the bombers were
launched only as "Shangri-La". Two years later, the Navy would give this
name to an aircraft carrier.

Hornet steamed from Pearl Harbor on 30 April to aid Yorktown and Lexington
at the Battle of the Coral Sea, but the battle ended before she reached the
scene. On 4 May Task Force 16 crossed the equator, the first time ever for
Hornet. After executing, with Enterprise, a feint towards Nauru and Banaba
(Ocean) islands which caused the Japanese to cancel their operation to
seize the two islands, she returned to Hawaii on 26 May, and sailed two
days later to help repulse an expected Japanese assault on Midway.

USS Hornet and USS Nashville War Diary's

Eleven days later, Hornet joined the aircraft carrier Enterprise off Midway,
and Task Force 16 turned toward Japan.