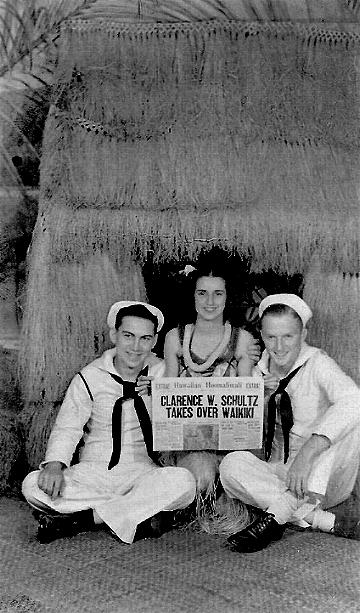 L-C. W. (Dutch) Schultz. R- Donald (Red) J. Leonard
December 7, 1941
On the morning of December 7, 1941, I awoke at 5:30 and prepared to relieve the watch at 6:30. I relieved the watch at 6:15 and after clearing a few routine matters by 7:00 I began writing a home. At 7:05 a message came over a receiver here in the Communication stating that one of our destroyers operating an inner coastal patrol had encountered an unknown submarine and dropped six depth charges upon it. Results of this encounter were unknown. At precisely 8:03, I heard a terrific explosion and the sound of diving airplanes overhead. Thinking that the explosion was blasting and the planes our own in a sham battle, I continued writing. Immediately after the first explosion followed a half dozen more. At this time I grew suspicious and walked over to the window and upon glancing out over the bay I was surprised to see great billows of black smoke rising and flame intermingling. At this time (approximately 8:15) I saw a plane come hurtling down over the Naval Air Station and a huge bomb dropped out of its bomb racks and went hurtling down to spread destruction.
I was shocked, horrified, amazed, and all the rest of the similar adjectives, to see a "Rising Sun" on the fuselage and wing tips of the plane. I then looked toward the Army Air Field and saw approx. two squadrons of Jap planes circling around and around the field much as vultures circle a wounded man, unmolested. These planes were very much intent upon destroying the entire field. Every so often one of them came hurtling down, dropped his bomb, strafed personnel and then did a wing-over and gained altitude. I might say that these planes were strafing the entire Navy yard also. Occasional anti-aircraft fire interrupted the explosions and machine gun fire. Incidentally I have never heard anything before that sounded such as the machine guns on the Jap planes. They sounded like large firecrackers and the sound was, to say the least, "Nercewracking". At this time came an hour lull in the great battle of "Pearl Harbor."
At 10:15 over they came again. This time a bit higher and more cautious because of the terrific barrage being laid up by the various ships in the harbor and the shore batteries at the Navy Yard. The U.S.S. Helena reputedly sent up the best barrage in the fleet, and was credited with at least five planes. However she sustained a direct torpedo hit amidships and was unable to maneuver immediately.
When the smoke of battle cleared away and the Japs took to their heels, the following was ascertained: The Oklahoma capsized, the Arizona blew up and two other large battleships were damaged, although to what extent is not known.