Pearl Harbor survivor Charles Horner, 86, reaches out to touch wounded Pfc. Alejandro Albarran of San Luis, Ariz. Horner visited wounded soldiers at Brooke Army Medical Center on Thursday to lift their spirits and share war stories. To visit the hospital, click HERE.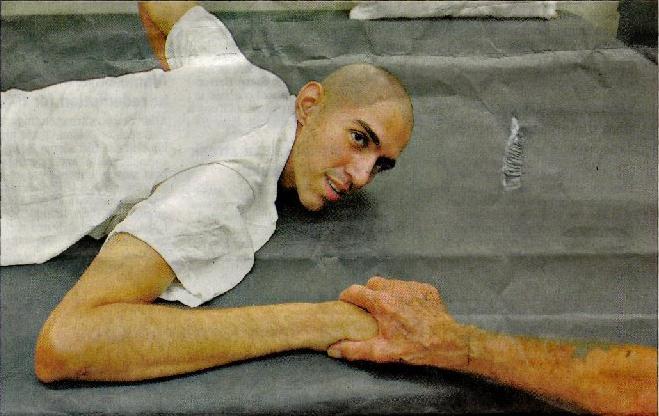 He survived a torpedo blast that damaged his cruiser at Pearl Harbor. And on Thursday, Charles Horner could think of no better way to mark the 65th anniversary of Japan's at­tack than to swap a few war stories with wounded veterans at Brooke Army Medical Center.
"I was lucky enough to come back all right," the 86-year-old Horner told one soldier while making the rounds in his wheelchair. "What you see now is old age." What these men without arms and legs saw was proof of why no one ever can count out the infirm if they're feisty It also was a reminder that veterans of all generations are brothers.
Horner, a resident of Heartland Health Care Center in San Antonio, came to BAMC as part of the firm's "heart's de­sire" program to give nursing home residents a chance to do something memorable. And although Horner is old and the troops he visited this day were young, their lives were at the same intersection. All of them are battling life-altering maladies.
Sgt. Jason March wears a bicycle helmet over a head missing part of its skull - a piece of scalp was removed to relieve brain swelling. He suffers from a trau­matic brain injury but brushed It off as "a little bump in the road."
Homer, in turn, encouraged March and thanked him for his service. Like many World War II veterans, he easily launched into a war story, recalling the torpedoed USS Helena's return to California with the USS Shaw, which was damaged in a Pearl Harbor blast.
"You made it back," March, 34, of Sacramento, Calif., said. "That's what matters the most."
Horner left the Helena's mess hall moments before the attack to use the restroom. Minutes lat­er, the half-dozen or so men he had just left were dead or wounded. "I was sitting on the toilet, and thank God I was there," he said.
Time has taken its toll on Pearl Harbor veterans. Gene Camp, 86, of San Antonio led 15 fellow members of the local chapter of the Pearl Harbor Sur­vivors Association to their ta­bles at the Fort Sam Houston Club. This was the annual luncheon for the group, which Camp said had 80 members in 1982. It now has fewer than 30.
Kenneth Stanford edged into the room clinging to a walker. At 88, the USS Oklahoma vet­eran doesn't hear well but has a fine memory of the attack. "I was with a 5-inch gun crew at the time. I was later a gun captain" he told a man at his table.
A large photo only a few feet away shot by a Japanese pilot, shows a geyser of water spiraling skyward between the Okla­homa and several other ships, an enemy plane banking away. It was one of 353 Japanese air­craft that swarmed over Oahu that morning. The first wave, led by Cmdr. Mitsuo Fuchida, arrived around 7:55 a.m. A sec­ond wave followed at 8:54 a.m. They sank or damaged 19 U.S. ships, killed 2,403 Americans and wounded another 1,178.
"They flew over making a big slow bank and (one plane) had big red circles on its wings," said Camp, then a 21-year-old sergeant awakened by the shoot­ing. "Somebody said, 'That isn't ours.' I can remember that plane like it was yesterday"
Horner has never forgotten seeing the explosion that con­sumed the Shaw. There was also a grisly task ahead - identify­ing a sailor by a tattoo on one arm. The limb was the only part of the crewman anyone could find.
Horner can't recall the man's name and perhaps doesn't want to, but he is proud of having been at Pearl Harbor, often call­ing Dec. 7, 1941, "my day".
"He has said this was his most important day of his life," explained Ann Whitis, regional marketing manager for Heart­land. "And 65 years later, this day runs a close second."