The following story was copied from the USS Helena Newsletter dated October 2002.
James Cooper served on the USS Helena CL-50 as Supply Officer from June 1942 - July 1943
---
JAMES VIC COOPER'S REFLECTIONS:
I have enjoyed Fred Wenzel's story of the "The last Sailor off the U.S.S. Helena" while he was in the process of abandoning ship similar activities were happening in the remaining part of the ship so he may not have been the last to leave.
My battle station was in the Coding/Decoding room just below the ship's bridge. Like Wenzel, we never received the order to abandon ship which delayed our departure. We soon realized what was happening. However, before we could leave we had to properly dispose of all the Coding/decoding equipment.
This required that all of the equipment be placed in weighted canvas bags and then thrown overboard. This took sometime to accomplish. With this done, we proceeded to the port side of the main deck. There a group was busy launching a doughnut shaped life raft. We were all knee keep in oily sea water. In this group was Captain C.P. Cecil. We then stepped over the side and grabbed onto the side rail. After pushing away from the ship we soon joined a second life raft. We tied the two together. In accordance with true Naval Tradition, the Captain may not have gone down with his ship but did the next best thing and was probably the last to leave it. We too were well aware of the noise made by the ship breaking up and pushing away from her as fast as we could to avoid being pulled down by her sinking.
After cleaning up aboard the USS Nicholas, while on it's return Tulagi and the USS Honolulu, I was asked to report to Captain McInerney, the immediate SOPA, regarding the disposition of the coding equipment and if any governmental funds had been removed from the Disbursing Officer's safe prior to the sinking. I told him that I did not believe this was possible due to the location of the safe, where the ship was breaking apart. The Honolulu took approximately seven hundred of us to Espiritu Santo where pay accounts of all the crew were reconstructed from records left behind prior to going into battle. Then all off to other activities.
James Victor Cooper, second and lasts supply officer -- as Bill Bunker would say "old beans and spam."
Victor Cooper's Military Awards


Navy Unit Commendation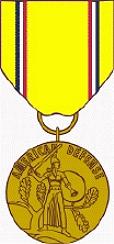 American Defense Medal


American Campaign Medal



Asiatic Pacific Medal
With Eight (8) Battle Stars


World War II Victory Medal
---