Arthur F. Nugent, Jr.
RM1c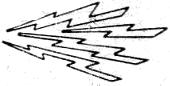 Radioman
The images on these pages are scans from, an album of newspaper
clippings presented to the USS Helena Organization by Ms Ellen Nugent.
The album was originally prepared in the 1940's by Ellen's grandmother -
Mrs Mary Ann Nugent who was the mother of Arthur F. Nugent, Jr..

Arthur was a Radioman First Class in the United Stated Navy and served
aboard the USS Helena CL-50 and was both a Pearl Harbor and a Kula Gulf
survivor.
Arthur F. Nugent, Jr. was born in Philadelphia, PA on February 13, 1923.
While living in San Diego, CA, he joined the Navy shortly before the onset
of WWII in December of 1940. He went through "Boot Camp" in San Diego
and was assigned to the Helena in July of 1941. He served aboard until her
sinking in Kula Gulf on July 6, 1943. After spending 12 hours in the water,
Nugent was picked up and went on to serve aboard the carrier -
USS Hornet (CV-12) until July of 1945.
After the Navy, Arthur worked as a pilot for Hawaiian Airlines in Honolulu
and Air America in Southeast Asia. He passed away on March 20, 2008
and is buried in the National Memorial Cemetery of The Pacific in Honolulu Hawaii.