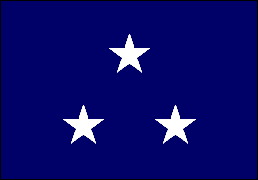 Vice Admiral's Flag
Charles Leroy Melson assumed command of the First Fleet on 14 July 1960 at which time he was promoted to Vice Admiral. It was just over 33 years since his 1927 graduation from the Naval Academy that the Vice Admiral from Richmond, Virginia, took charge of all Naval Operating forces in the Eastern Pacific.
From the time he was commissioned until the outbreak of World War II, Admiral Melson served aboard ten different ships and completed a goat graduate course in naval engineering at his Alma Mater. After Pearl Harbor he was assigned to the staff of the Commander-in Chief, United States Fleet and subsequently served as Assistant Operations Officer. In September 1942 he became skipper of the destroyer CHAMPLIN and sixteen months later he took command of Destroyer Division 32. In November 1944 he moved to the staff of Commander, Destroyers U.S. Atlantic Fleet as Operations Officer and Assistant Chief of Staff.
After the war he attended the senior course at the Naval War College for a year and then remained for another as an instructor. During the Korean conflict he served as Commanding Officer of the battleship NEW JERSEY when she was flagship for Commander SEVENTH Fleet. Effective 1 June, 1955 Captain Melson became Rear Admiral Melson and as such was Deputy Chief of Staff to the Commander of the Atlantic Fleet, and then Superintendent of the Naval Academy.
Vice Admiral Melson's numerous medals include the Silver Star, the Legion of Merit with two Gold Stars and a Combat 'V', the Bronze Star, and the Commendation Ribbon with three Bronze Stars and Combat 'V'. He is married to the former Miss Vadah Lee Jenkins of Charleston West Virginia and has one daughter, and two stepsons, one a Naval Aviator.